Caleb Lovejoy
Caleb Lovejoy was baptised at St Nicolas Church in Guildford on May 8th 1603, the son of Phillip Lovejoy. He was an intelligent boy who was given a free education at the Royal Grammar School before being moved to Southwark by his parents at the age of fourteen.
In London, Caleb was very successful. He was a member of the Merchant Taylors' Company, one of the Great Twelve Livery Companies, which gave him the freedom of the City of London.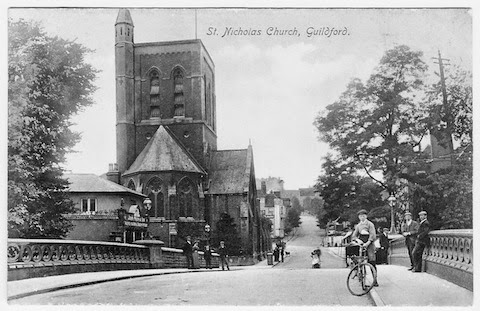 St Nicolas Church, where Caleb Lovejoy was baptised in 1603.
Guildford 1839
He owned the Walnut Tree Inn and other property in Southwark and became a wealthy merchant who supplied wagons to Oliver Cromwell's army during the Civil War.
Caleb Lovejoy is primarily remembered in Guildford as a benefactor. In his will of 1676 he bequeathed property under lease in Southwark to form a charity for the benefit of the poor in Guildford. He appointed three guardians as trustees. Six pounds per annum was to be provided for "teaching of poor people's children their letters until they could read their Testament." The teaching to be undertaken, "by some honest poor woman."
He stipulated that, after 45 years, four almshouses should be built in the parish of St Nicolas as accommodation for four poor persons of good character. However, it was not until 1839, after the sale of Caleb's estate, that land was purchased in Bury Street Guildford and four almshouses were built.
Guildford 1839
To be eligible, applicants were required either to have been born in the parish or have lived there for fifty years. In his last will and testament, Caleb directed that he should be buried in St Nicolas's churchyard and that the priest should be paid for a yearly sermon in his memory. A sermon has been preached in his memory every year since.
There are two brass plates in the church; one giving details of Caleb Lovejoy's legacy and his death and burial in 1676 at the age of 74; the other has the following verse inscribed which is said to have been composed by Caleb himself:
Caleb Lovejoy, her I lye, yet not I,
My body being dead
My soul is fled unto Eternitye
There to injoye that everlasting Bliss
Which Jesus Christ, my Lord
Who's gon before, prepared hath for his;-
Wherefore my Body rest in hope till then
When he shall joyne thee to thy soul agen
And bring thee unto that most glorious vision
There to enjoye thy God in full Fruition.
The charity's only significant source of income is from the charges paid by the residents. As an almshouse, these charges must be set at affordable levels below market rates. Consequently, other forms of income are always welcome as maintaining such a historic building is very costly. If you would like to help the charity in our fundraising efforts and continue the great work started by Caleb Lovejoy in 1676, perhaps as a one-off donation or as a bequest in your will, please contact.